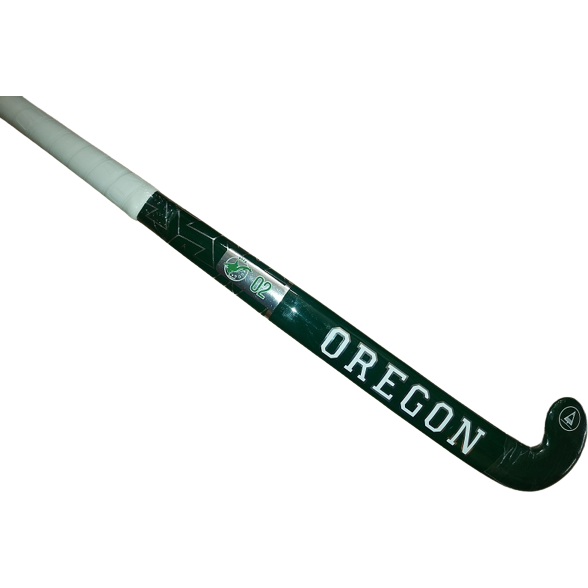 Oregon Orca Low 02, crafted for an expert level, has a 24 mm Low bow curve located at 200 mm from the bottom of the stick, which maximizes the dribbling and aggressive ball carrying combined with 30% premium Japanese carbon composition and double channel construction for maximum balance of control and power.


Our sticks are designed in Belgium, tested and approved by Olympians and certified by respected engineers. Our Sticks follow a strict process using the best material at each step to offering you the optimum feeling on a hockey pitch.

Color : Navy

TECHNICAL INFORMATION

Control
The indoor Lowbow increases passing and shooting for all rounder players; Soft touch area provides a wonderful feeling on the first touch through the hands; A stiffness through the shaft to aid accuracy when passing; Weight around 460g increases the ball control and power

Power
30% carbon provides maximum control and great power ;

Handling
Balance at 430 mm is made for superb manoeuvrability with a comfortable perforated premium PU grip, handle diameter of 30 mm

Vibration dampening
The stiffness of the carbon is offset by the PE/EVA foam under the grip and the double channel construction

Durability
Our products are made of premium 20 layers of composite material and quality components which will increase their durability. Packaging Eco-friendly polyester sleeve

Head
Head 45° angle with silica face

Bowpoint
Bowpoint is located at 200 mm from the bottom of the stick for a perfect Low bow curve
In almost every case, all purchases will be shipped within 1-2 business day(s) of the order being received.

We will accept returns and offer you a refund up to 14 days after the order has been delivered. The item(s) must be returned unused and in the same packaging.

Due to rising fuel and courier costs, we have to charge a small shipping fee depending on your total order value:

Orders with a total value of less than $100 CAD will have a flat rate shipping fee of $10 CAD.
Orders with a total value of between $100 - $250 CAD will have a flat rate shipping fee of $20 CAD.
Orders with a total value of over $250 CAD will get free shipping. These prices will be reviewed if/when the fuel and courier costs come back down.