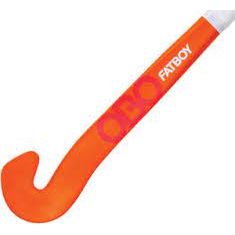 This stick is designed for the modern goalie. As a result it is heavier and fatter to give more mass, but perfectly balanced for the goalies hand position and quick movements. The recurve head and lower shaft shape enable a bigger stopping area, a better horizontal stick position on fore and backhand block moves. The straight stick shape and Fat Boy D shape line up the composite fibre to produce maximum stiffness and incredible power. The extra long grip and oval shaft shape make for a comfortable and natural hand grip. The midshaft balance allows for a heavier stick to be accurately used producing a big gain in power and stability when deflecting a ball.
Stick Length: 36.5"
In almost every case, all purchases will be shipped within 1-2 business day(s) of the order being received.

We will accept returns and offer you a refund up to 14 days after the order has been delivered. The item(s) must be returned unused and in the same packaging.

Due to rising fuel and courier costs, we have to charge a small shipping fee depending on your total order value:

Orders with a total value of less than $100 CAD will have a flat rate shipping fee of $10 CAD.
Orders with a total value of between $100 - $250 CAD will have a flat rate shipping fee of $20 CAD.
Orders with a total value of over $250 CAD will get free shipping. These prices will be reviewed if/when the fuel and courier costs come back down.